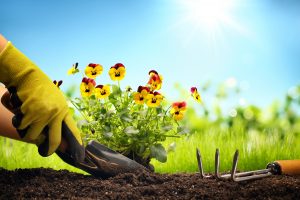 Keystone Lawn & Tree Care is a premier commercial and residential lawn care service in Spokane, WA that offers professional fertilizing services, lawn mowing services, aeration services, weed control, and much more in Spokane, WA!
Residential Services
Most people do not take into account the amount of time they spend in their backyard. You might enjoy going outside to barbecue with friends, relax after a long day of work or spend time with your family. Imagine how having a beautifully maintained backyard could enhance that time you spend at your home. At Keystone Lawn & Tree Care, we understand the importance of maintaining a landscape around your home that adds to the appeal of your home rather than detracts from it.
Especially if you ever consider selling your home, a well maintained yard can add a significant amount of value to your property. Regardless of the size of your yard in Spokane, WA, Keystone Lawn & Tree Care can assist you in yard maintenance, tree trimming, fertilizing, and lawn aeration.
Residential services are
Maintaining Property
Mowing Grass
Caring for Trees and Shrubs
Fertilizing
Controlling Weeds
Aerating
Removing Leaves
Caring for Flower Beds
Dethatching
Commercial Services
The landscape surrounding your company's building is the image that you present to the people that see it every day. Your landscape has the potential to welcome visitors, please clients, satisfy tenants and create a pleasant environment for employees. Keystone Lawn & Tree Care takes every step to ensure that your commercial landscape is beautiful and functional. Our trained professionals are fully capable of exceeding your commercial landscape needs and goals.
In the past Keystone Lawn & Tree Care has provided outstanding commercial services to commercial properties as diverse as parks surrounding offices, daycare centers and apartment buildings.
We have maintenance professionals that will continue to enhance the beauty of your commercial property and provide you with the image that your company or property needs in order to be successful. Among the maintenance services that we provide are mowing, controlling weeds, irrigating, soil analysis and fertilizing in Spokane, WA.
Commercial Services Are
Maintaining Property
Mowing Grass
Caring for Trees and Shrubs
Fertilizing
Controlling Weeds
Aerating
Removing Leaves
Caring for Beds
Dethatching
Call Keystone Lawn & Tree Care today (509) 251-0416